Section 25 | Official website | section25.com
Sunday 15 July 2018
New Section 25 album Elektra out now
'Elektra', the new album by Section 25 is out now via Austrian label Klang Galerie on CD and all major download platforms. This is the band's 8th studio album and shows a welcome return to an old S25 work ethic of tracks recorded in one take and plenty of improvisation.
Vin Cassidy: "I am very proud of this project, particularly as Paul Wiggin came down to play guitar on several of the songs and it was great to meet and clear the air after so many years. When Paul was putting totally improvised guitar tracks down, he asked for all instruments/vocals to be turned off except for the bass guitar and drums. It was so moving listening to him play to this bare sound, I was transported back our very first recording session at Cargo Studios in 79 with Larry, Rob and Ian.
"I am also very grateful to Michael Cassidy for the able bass duties he provided on these tracks. I am not one for covers as a rule but we thought we would turn FML around and send it back S25 style".
The CD includes an 8 page booklet called 'Section X Section'. This has a foreword by John Robb and contributions / observations from band members past and present.
Buy it now
'Elektra' is available to buy now via
Klang Galerie
. Also available to
download
.
Tracklisting
1. Laid Back
2. Chase The Blue
3. Creatures
4. All I Ask
5. It Don't Get
6. You Want Some
7. You Don't Have To Be Liked To Be Good
8. The Greatest Thing
9. This Is The Love
10. Floating Sun
11. FML*
*track 11 is a cover of a Kanye West song which in turn sampled Section 25's 'Hit' from their Factory Records debut 'Always Now'.
Paul Wiggin in the studio
Paul Wiggin in the studio
Paul Wiggin and Vin Cassidy
Credits
Section 25 are...
Beth Cassidy... Vocals and Keyboards
Vin Cassidy... Drums and additional Percussion
Joanna Cassidy... Backing Vocals and Keyboards
Steve Stringer... Guitar and Keyboards
Thanks to...
Paul Wiggin... Guitar
Michael Cassidy... Bass Guitar
Recorded and Produced at West Orange Studios UK in Jan 2018
Produced by Alan Gregson and Vin Cassidy
Engineered by Alan Gregson
All Songs written by Section 25 except FML written by K West and M Dean
Photos by Holsteph Photography
Labels: album, Klanggalerie, Paul_Wiggin
- - - -
Blogger Archives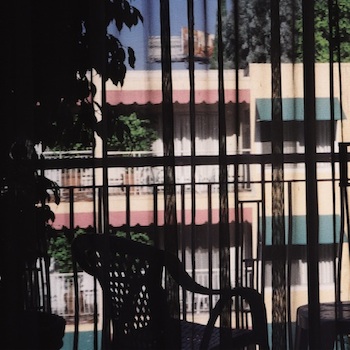 What better way to spend my 65th birthday than working on the vocal tracks of the bands 8th studio album . Thanks for all the kind messages...Steve and I are very excited about the new album and are working on a winter 2023 release in both vinyl and CD pic.twitter.com/YZGqp8g8pu

— Section 25 (@section25) July 18, 2023